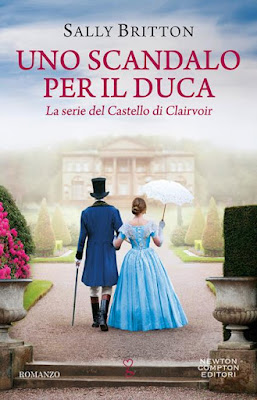 "Uno scandalo per il duca" è il primo volume della serie del Castello di Clairvoir scritta da Sally Britton. Di cosa si tratta? Scopriamolo insieme.
La serie "Il Castello di Clairvoir" è così composta:
1. Uno scandalo per il duca:
La più romantica storia d'amore ambientata nell'Inghilterra dei Bridgerton. Perfetta per gli amanti del regency romanceAppena assunta come governante dalla famiglia del duca, la giovane Alice Sharpe deve imparare a controllare i suoi modi impulsivi. L'incarico di badare alla casa e ai bambini è un'opportunità unica, di quelle che capitano poche volte nella vita, e potrebbe significare vivere nell'agio per il resto dei suoi giorni. Sfortunatamente, il primo incontro con l'ospite del duca, un affascinante scienziato, dimostra che potrebbe non essere pronta per il ruolo austero di governante.
Rupert Gardiner ha un obiettivo: far pubblicare dalla Royal Society il frutto dei suoi studi in botanica. È stato incaricato dal duca di catalogare tutta la flora del parco del castello. Ma le continue apparizioni di Miss Sharpe durante il lavoro sono una distrazione piuttosto fastidiosa. Almeno, questo è quello che dice a sé stesso. Mentre Alice fatica ad adattarsi al suo nuovo ruolo, non può fare a meno di ammirare l'intelligenza e la concentrazione di Rupert. Più si incontrano, più la sua ammirazione cresce. Ma un gentiluomo come lui potrebbe mai innamorarsi di una semplice governante?
2. A Companion for the Count:
Miss Emma Arlen's position as a companion never included distracting her mistress's suitors, but when a handsome Italian ambassador arrives determined to find an English bride, Emma happily takes up the cause.
Emma Arlen has spent a decade as a member of the duke's family, in the position of companion to his daughter and ward to the duke himself. She would do anything to show her support to the ducal family for their love and kindness. When Lady Josephine begs Emma to distract a most determined Sicilian suitor, she agrees at once. How hard can it be to keep one man entertained for a few weeks? Luca, the Conte di Atella, left his home in the newly formed Kingdom of the Two Sicilies under the direct orders of King Ferdinand I.
Luca's duty as ambassador to England includes everything from negotiating better trade agreements to strengthening the bonds between the two nations. If possible, by marrying a lady of high birth. When he optimistically sets his sights on Lady Josephine, Miss Arlen consistently disrupts his plans. The more time that passes, the more he realizes he does not mind at all. Continually in the conte's company, Emma recognizes in him a spirit of adventure and nobility like she has never witnessed before. When the time comes for him to go, will she be able to part with him and keep her heart intact? As the second stand-alone novel in a new series by author Sally Britton, this story continues the Clairvoir Castle romances. This is a light-hearted, romantic series set in the Regency period.
3. Sir Andrew and the Authoress:
Lady Josephine, the duke's eldest daughter, has a secret. When her brother's horrid best friend discovers what she's been hiding up in the castle tower, she has no choice but to take him into her confidence. As the daughter of a duke, Lady Josephine has a long list of responsibilities, and an even longer list of things she must never do to dishonor the family name. Josephine knows exactly which side becoming an author falls upon, but she's determined to try her hand at it anyway.
For months she has worked on her novel in secret, writing chapter after chapter of intrigue and romance. Unfortunately for Josephine, her sworn enemy stumbles upon her secret. Sir Andrew Wycomb's close relationship to the Duke of Montfort's family and heir gives him more than one advantage in life. His loyalty to the family is absolute, even if he finds at least one of its members an annoyance. He and Lady Josephine have never seen eye-to-eye.
But when he discovers that she's written a novel upon a subject she knows nothing about, he cannot help but sympathize with her dream. This creates an unlikely ceasefire between them. But things at the castle are always changing, and when a determined suitor arrives to court Josephine, Andrew has to decide which secrets he's going to keep. Especially when he discovers the one he's kept even from himself – that perhaps he doesn't find Josephine an annoyance at all.
In fact, she is quite charming. The more time they spend together, the more he hopes she will realize they aren't enemies, and they could be so much more… As the third stand-alone novel in this sereis by author Sally Britton, this story continues the Clairvoir Castle romances. This is a light-hearted, sweet romance series set during the Regency era in England.
4. Lord Farleigh and Miss Frost:
An Irish miss and a duke's son have little in common, but Christmas at the castle has a way of bringing the most unlikely people together. Isleen Frost wishes her family had stayed in Dublin for Christmas but understands it would have been folly to decline an invitation to the Duke of Montfort's Christmastide house party. Isleen refuses to allow the opulent castle and powerful duke to impress her. But the duke's eldest son, Lord Farleigh, is another matter entirely. Raised as the heir to a duke, Simon Dinard, Lord Farleigh, has learned to project a calm self-assurance despite an inner fear he will never be as confident a leader as his father.
When a friendly wager and a spirited Irish lady challenge all his unspoken thoughts, he determines to prove her wrong—and ignore the growing attraction between them. Christmas celebrations at the castle are always full of surprises, but Isleen and Simon are not at all prepared for the feelings the season inspires between them. An Irish miss and a duke's son have no business falling in love. But the magic of sleigh rides, snow-covered hills, and mistletoe might change their minds… This novel is a sweet Regency romance and can be read as a stand-alone, though readers of the previous books will enjoy seeing old friends again.
0.5. A Duchess for the Duke (in uscita ad Aprile 2023):
The Duke of Montfort takes a wife. Gregory Dinard, a young duke caught unprepared for his role, needs a companion. When he meets Cecilia, he knows she has the grace and intelligence his duchess will need. Lady Cecilia never expected more than a marriage of mutual benefit, but she's still surprised when the duke proposes an alliance between them. Will love find a place in this practical arrangement? This is the prequel novella for the Clairvoir Castle Romances series.